Financial Literacy Poster Contest
The Vermont State Treasurer's Office, in partnership with the Vermont Bankers Association, has held an annual statewide financial literacy poster contest since 2008. The goal of the Be Money Wi$e poster contest is to help students think about personal finance and provide them with a creative outlet to demonstrate their knowledge. The contest is open to Vermont students in 3rd through high school. Students placing first in each grade division win a $100 cash prize. Their schools also are each awarded a $100 cash prize for supporting financial education.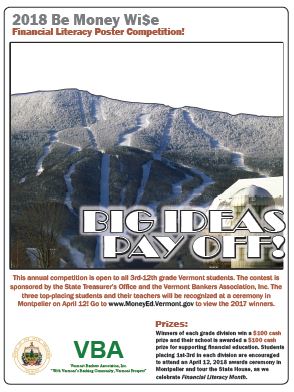 2018 Poster Contest Theme: Big Ideas Pay Off!
The 2018 poster contest featured two grade categories:
        Elementary: 3rd - 5th grades
        Middle: 6th - 9th grades
On April 12, 2018, State Treasurer Beth Pearce recognized this year's winners and participants at the annual Financial Literacy Awards Ceremony.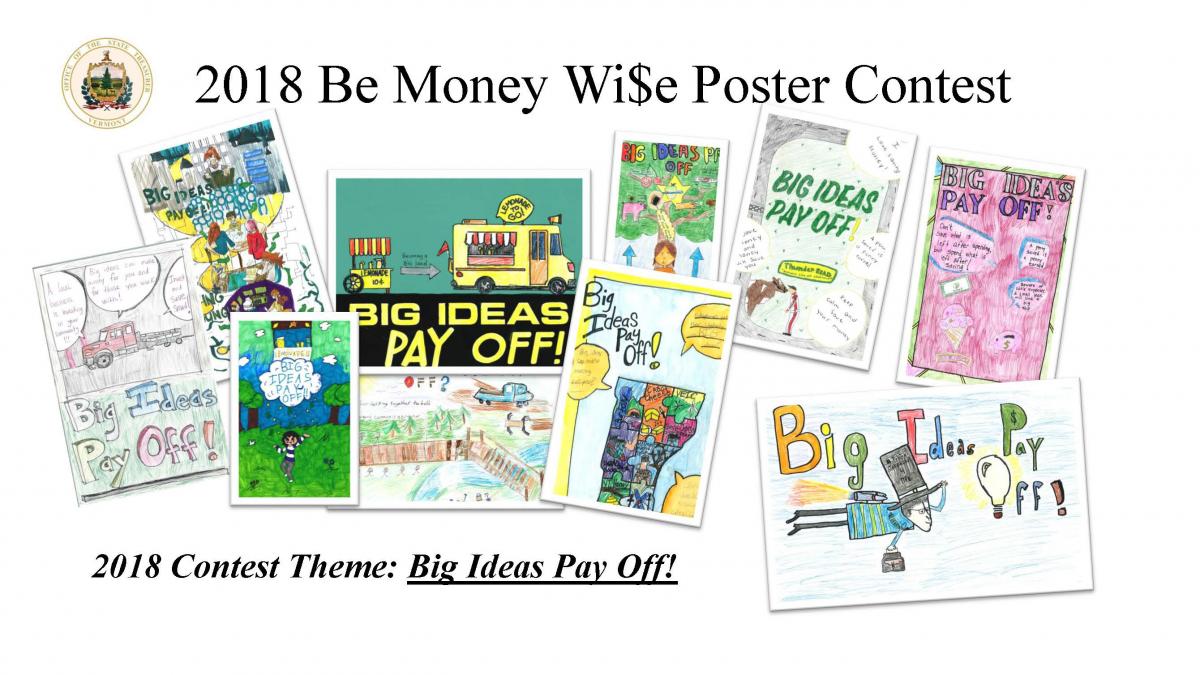 The 2018 poster contest theme was Big Ideas Pay Off! Thank you to all who participated.
Each year, the State Treasurer's Office sponsors a ceremony in Montpelier to recognize the student winners from several financial literacy programs. The 2018 recognition ceremony was held on April 12. Students, parents, teachers and school librarians all attended the ceremony.
Congratulations to the 2018 Winners!
There were a number of excellent posters entered in the 2018 contest. The contest featured three grade categories: elementary, 3rd-5th grades and middle school, 6th-9th grades. The winners for 2018 were:
Elementary School Division
1st Place:  Ziva Baker, Mater Christi School
2nd Place:  Monica King, Fletcher Elementary School
3rd Place:  Madlyn Shedd, Samuel Morey Elementary
Honorable Mention: Mackenzie Owens, Bishop John A. Marshall School
Honorable Mention: Wesley Babcock, Barnet School
Middle School Division
1st Place:  Bryce Ruohonen, Craftsbury Academy
2nd Place:  Noah Rubel, Barre City Elementary and Middle School
3rd Place:  Student from Vergennes Union Elementary School
Honorable Mention: Evan Roberts, Fletcher Elementary School
Honorable Mention: Dani Reardon, Fletcher Elementary School