The State Treasurer's Office annually holds a financial literacy tournament called the Vermont Treasury Cup Challenge. The competition for high school aged students promotes interest in and knowledge of personal finance, economics, and consumer affairs topics.
The 11th annual Treasury Cup Challenge was held on March 8, 2019 at the State House in Montpelier. Essex High School students survived 16 rounds of competition to take home the Treasury Cup, with each student winning the grand prize of $500 college savings accounts.
How Does the Challenge Work?
High school teams are comprised of four students in grades 9-12 and up to two alternates. The tournament follows a bracketed, double-elimination format. Teams are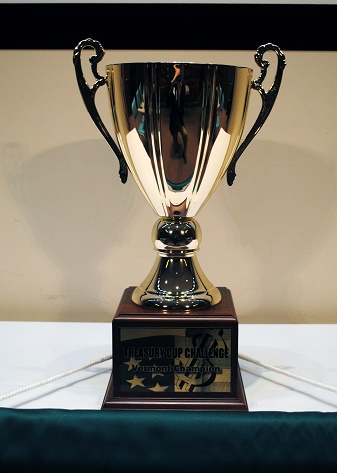 seeded through random drawing. The very first time a team competes, students will participate in a round robin format where each student is challenged on their personal knowledge. After the first match, match questions switch to team questions. Each match ends with a high-stakes lightning round whereby any student may buzz in to give the correct answer.
In addition to winning trophies and college savings accounts, the championship team also wins the right to represent the State of Vermont in the semi-finals of the National Economics Challenge. If you have an interest in entering a team for the Vermont Treasury Cup Challenge and have questions, contact the Treasurer's office at (802) 828-1452.
Prizes
$3,000 first prize, each student receives a $500 college savings account
$1,500 second prize, each student receives a $250 college savings account
Individual trophies for teams placing 1st, 2nd or 3rd
Winning school's name engraved on traveling trophy
Lunch is held at the State House
The high school winning the competition becomes Vermont's State Champion for the National Economics Challenge. If that team successfully passes a follow-up state semi-final challenge exam, that high school will qualify for an all expenses paid trip to compete nationally in New York City in May.
2019 Treasury Cup Results:
1st Place - Essex High School, coach Charlie Burnett
2nd Place - South Burlington High School, coach Jim Shields
3rd Place - Missisquoi Valley Union High School, coach Jacob Hartman
Vermont Treasury Cup Challenge Sponsors
The event is organized and promoted each year by the Vermont State Treasurer's Office. VSECU generously underwrites the event. Community National Bank donates an iPad Mini for one lucky student. College savings account prizes are provided by the Vermont Student Assistance Corporation. Additional financial support is contributed by the Vermont Jump$tart Coalition, who donate the buzzer system for the tournament. Thank you to our generous supporters!
What Content Does the Challenge Cover? 
At the start of the competition, teams are placed in competition brackets. It is a double elimination tournament. The majority of the questions are in multiple choice format. Each preliminary competition is organized as follows:
ROUND 1: Personal Finance--each team gets four questions in round robin format; correct answers worth 5 pts. each
ROUND 2: Economics--each team gets four questions in round robin format; correct answers worth 5 pts. each
ROUND  3: Lightning Round--open-ended topics that teams compete directly against each other in a timed format
Subsequent matches are modified slightly from the preliminary rounds in that individual questions are replaced with team questions. There is a lightning round.
2019 Treasury Cup Prep Materials
Prep Toolkit for Coaches and Students
Treasury Cup Practice Test Answer Key
Treasury Cup Practice Test - Slides
See Who Has Accepted the Challenge!
Schools listed below have competed in past Challenges:
Bellows Free Academy
Burlington High School
Burr & Burton Academy
Champlain Valley Union High School
Essex High School
Fair Haven Union High School
Green Mountain Technical Career Center
Green Mountain Union High School
Harwood Union High School
Lamoille Union High School
Lyndon Institute
Mill River Union High School
Missisquoi Valley Union High School 
Montpelier High School
Mt. Mansfield Union High School
North Country Union High School & Career Center
Randolph Technical Center
River Valley Technical Center
South Burlington High School
Southwest Vermont Career Development Center
St. Johnsbury Academy
Stafford Tech Centor
Stowe High School
U32 High School
Vergennes Union High School
Windham Regional Career Center
Windsor High School
Winooski High School
What Do Students & Teachers Think of the Challenge?
"As a teacher, there is nothing more satisfying than seeing students get excited
and competing over economics concepts.
I could watch that all day long!"
- Essex High School Teacher Charlie Burnett
 
"This was WHS's first year in the Treasury Cup and, although we were nervous, it was a heart-racing and
fun educational opportunity for all of us. I'm looking forward to next year."  
- Winooski High School Student Rainbow Chen
 
"I thought it was an amazing learning experience, with the additional benefit to being a great competitive challenge. I was surprised at how much I learned and that the information I learned was heavily applicable to my future financial life. I really look forward to attending the cup next year."
- Windham Regional Career Center Student Matt Dulmaine
"My personal marginal benefit certainly exceeded the opportunity cost of attending
this fantastic and enriching event."
- Essex High School Student Omkar Borse
"The Cup is elusive and difficult to capture, but the voyage. . . the voyage will test your mettle."
- Mt. Mansfield Union Student Loughlin Neuert
"The Vermont Treasury Cup Challenge provides us the opportunity to put our personal finance and economics knowledge to the test against other students from across the state. The competitive nature of the Challenge always makes for an exciting day." 
- Missisquoi Valley Union Business Teacher Jacob Hartman
"The Treasury Cup competition put on by the Vermont State Treasurer's Office is one of the purest learning opportunities available covering this material. In addition to putting the content area to use, the students thrive both individually and collaboratively. A tremendously healthy day of learning."   
- U32 High School Business Teacher George Cook