The Vermont State Treasurer's Office first introduced the Reading is an Investment program to Vermont schools in 2010. The program promotes the teaching of personal finance to elementary school children by providing quality children's books that explore financial subjects to participating schools.The program offers students in kindergarten through 6th grades the opportunity to learn about money and basic financial concepts. Off-the-shelf resources give librarians and teachers tools that they can use to help students make the connection between these stories and their individual lives.
Congratulations to the 2017 winners of the Reading is an Investment Program! These students were each awarded with $250 College Savings Accounts from VSAC, the winners included:
Acadia Clark, Ferrisburgh Central School
Alex Blaise, Sustainability Academy
Charlie Reiderer, Mary Hogan School
Cody Wheeler, Orange Center School
Gina LeBeau, Vergennes Union Elementary
Hailey Daniels, Weathersfield Elementary School
James Bowley, Lakeview Union School
Julien Andrus, Ferrisburgh Central School
Katerine Lacourciere, Essex Elementary School
Keegan Snyder, Cambridge Elementary School
Mallory Rogers, Bellows Free Academy Fairfax
Natalie Young, Tunbridge Central School
Tell Me About the Program
The program takes a two-prong approach to promoting financial literacy -- class or library instruction and personal reading. Each fall, participating elementary schools receive three new hardback books. Lesson plans and activities are included with the books to teach money concepts. At the same time, students are encouraged to participate in a personal financial literacy reading program. School librarians receive a recommended money reading list that highlights books that focus on basic financial concepts. Students who read at least three books from the list and complete personal reading requirements can send a completed reading log to the Treasurer's office for entry in a statewide drawing for one of twenty $250 accounts in the Vermont Higher Education Investment Plan -- Vermont's official 529 college savings plan. Winning students are honored at an annual ceremony in Montpelier.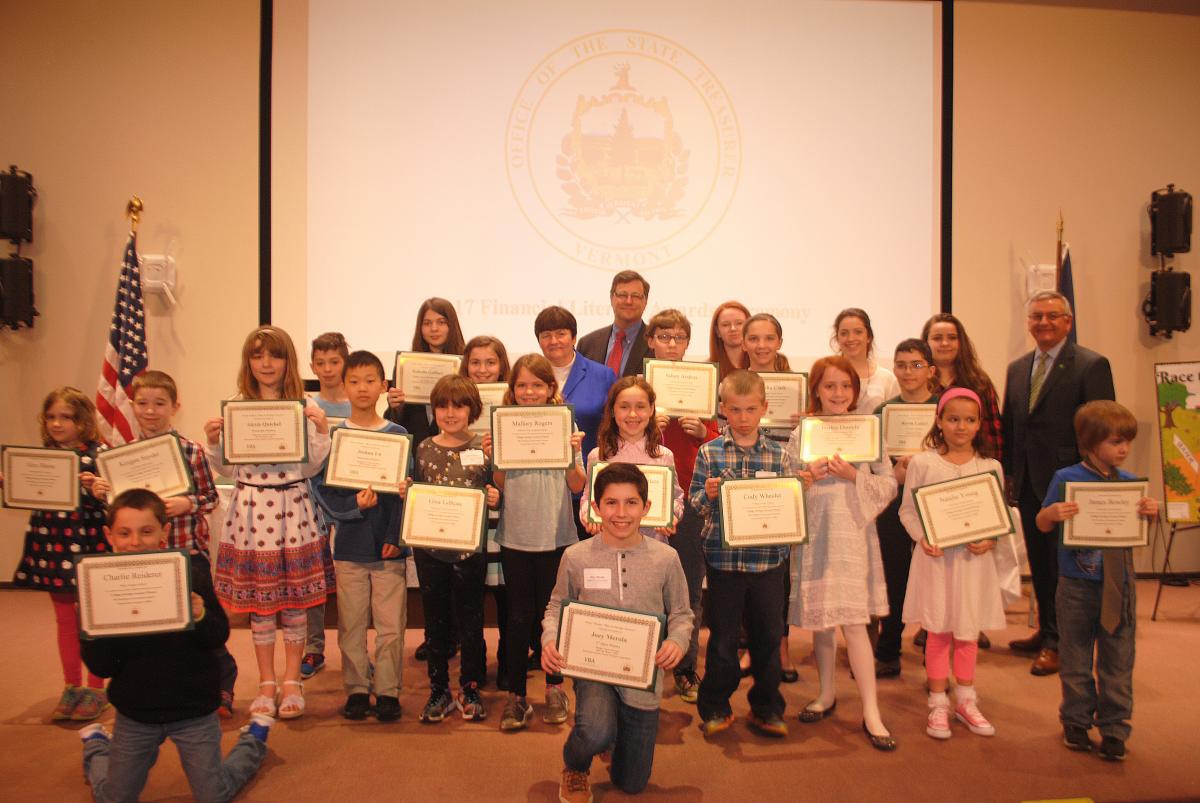 Each year, the Treasurer's office holds a Financial Literacy Awards Ceremony in Montpelier to recognize student achievement.
Below is the curriculum for the 2016-2017 school term. We have archived all past materials for continued use by both school personnel and parents. See the sidebar boxes on the right.
2016-2017 Curriculum Theme: Saving to Make Goals a Reality
The theme this year is "Saving to Make Goals a Reality." This series allows librarians and educators to give students an overview of how one identifies a savings goal and implements a plan to achieve their target. In Curious George Saves His Pennies, by Monica Perez, students learn about how they can quantify the value of a want or need and develop a strategy to actively save money to purchase a desired product. This book tells an easily relatable story that provides examples of the types of activities one must undertake to generate an income and save portions of it for a goal. Vera B. Williams's book, A Chair for my Mother, tells the story of a young person and her family as they save money in a jar to purchase furniture after a fire destroys their house. The book allows for a discussion on human resources, earning income and setting a savings goal. In The Yoyo and the Piggy Bank, by Susan Werner Thoresen, students will learn about a young person who saves money for a yoyo by completing chores. The lesson plan compliments the subject by presenting basic information on how to make deposits into a bank account to achieve a savings goal.
Personal Finance Theme Overview
 Curious George Saves His Pennies - How do I Save for a Goal?
A Chair for My Mother - How do I Earn and Save?
[Image result for yoyo and the piggy bank]
The Yoyo and the Piggy Bank - How do I Build a Plan to Save?
Additional Lesson Planning Resources
The lessons above are meant for use by the school librarian during a 40-minute instructional time. Teachers who wish to expand on the librarian activities may use this resource list to create longer, more detailed lesson plans.
Please Thank Our Supporters
This program would not be possible without the financial support of the TD Bank Charitable Foundation, the Windham Foundation, and Comcast. These organizations contribute funds to the Financial Literacy Trust Fund and provide the underwriting support for the program. The Vermont Student Assistance Corporation provides all of the Vermont Higher Education Investment Plan prizes.
National Standards in K-12 Personal Finance