I'm an Entrepreneur!
The theme this year is "I'm an Entrepreneur!" This series will help students learn about making choices, financial planning, creating a money plan, and the importance of saving and sharing.
In What Does it Mean to be an Entrepreneur by Rana DiOrio and Emma D. Dryden, students are introduced to the concept of entrepreneurship. Lesson plans were developed to help students think creatively about types of needs they'd address. In Dirt Cheap by Mark Hoffmann, students will learn that even the best ideas require a solid business plan to ensure their marketability and viability. The lesson plans provide opportunities to discuss money basics with students of all ages. In The Most Magnificent Thing by Ashley Spires, students move through one young inventor's creative process. The book allows for a discussion of the way entrepreneurs must work through challenges, while the lesson plan provides some money exercises to consider the process of budgeting through the protagonist's journey.
Personal Finance Theme Overview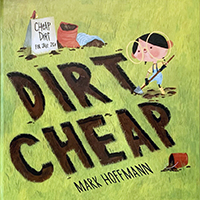 Dirt Cheap - How Do Supply and Demand Factor into Business?
The Most Magnificent Thing - How do Goods and Services Relate to Entrepreneurship?
What Does It Mean to be an Entrepreneur  - What Makes for a Successful Entrepreneur?
Additional Lesson Planning Resources
The lessons above are meant for use by the school librarian during a 40-minute instructional time. Teachers who wish to expand on the librarian activities may use this resource list to create longer, more detailed lesson plans.