Financial Literacy Poster Contest
The Vermont State Treasurer's Office, in partnership with the Vermont Bankers Association, has held an annual statewide financial literacy poster contest since 2008. The goal of the Be Money Wi$e poster contest is to help students think about personal finance and provide them with a creative outlet to demonstrate their knowledge. The contest is open to Vermont students in 3rd through 12th grades. Students placing first in each grade division win a $100 cash prize. Their schools also are each awarded a $100 cash prize for supporting financial education.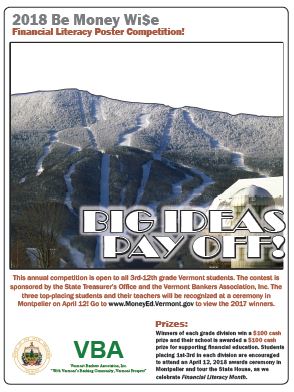 2018 Poster Contest Theme: Big Ideas Pay Off!
Submit your poster today to be qualified to win a $100 cash prize for you and your school!
The 2018 poster contest features three grade categories:
        Elementary: 3rd - 5th grades
        Middle: 6th - 9th grades
        High School: 10th - 12th grades
The submission deadline is March 15, 2018. You can find the rules and details about this year's competition by clicking here.
Scroll down to learn more about last year's contest and submissions!

The 2017 poster contest theme was Race to Savings Success. Thank you to all who participated!
Each year, the State Treasurer's Office sponsors a ceremony in Montpelier to recognize the student winners from several financial literacy programs. The 2017 recognition ceremony was held on April 6. Students, parents, teachers and school librarians all attended the ceremony.
Congratulations to the 2017 Winners!
There were a number of excellent posters entered in the 2017 contest. The contest featured three grade categories: elementary, 3rd-5th grades; middle school, 6th-9th grades; and high school, 10th-12th grades. The winners for 2017 were:
Elementary School Division
1st Place:  Alex Zuchowski, Williston Central School
2nd Place:  Kevin Lahiri, Williston Central School
3rd Place:  Gabriella Clark, Williston Central School
Middle School Division
1st Place:  Isabella Gaffney, Homeschool
2nd Place:  Julia Lamorey, Williston Central School
3rd Place:  Joey Merola, Williston Central School
High School Division
1st Place:  Charlotte Brace, Montpelier High School
2nd Place: Allison Babbit, Rice Memorial High School
3rd Place:  Haleigh Molinario, Randolph Technical Career Center
Honorable Mention
There were six students who received honorable mention recognition. Those students placing in the honorable mention category were: Samuel Wooliever, U-32 High School; Allie Perini, Green Mountain Technology and Career Center; Lilly Laughlin, St. Albans Town Educational Center; Jasmine Cousino, Williston Central School; Jushua Lu, Trinity Baptist School; Alexis Quickel, Trinity Baptist School.