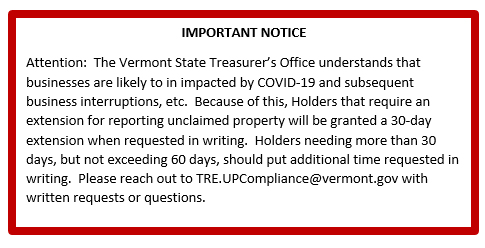 The Unclaimed Property Division of the Vermont State Treasurer Office reunites Vermont residents with lost and/or abandoned assets. Our database contains more than 760,000 properties valued at more than $99 million. 
What is Unclaimed Property?
Any type of financial asset owed to an individual, business, agency, nonprofit, etc. and in possession of a holder for a specified amount of time without any contact from the "owner" (individual owed the credit, refund, rebate, etc.).Banks,  credit unions, corporations, utilities, insurance agencies, retailers,  states and state agencies, brokerage houses and other entities annually report forgotten bank accounts, uncashed pay checks, unrefunded security deposits, stocks returned by the US Postal Service,  mutual funds,  IRAs and and even the contents of safe deposit boxes to the unclaimed property departments in each of the 50 states in the United States of America, as well as in the District of Columbia, Canada, Puerto Rico and the US Virgin Islands. The Vermont State Treasurer Office receives these assets and safeguards them until claimed by rightful owners or heirs.
How Much is Returned?
In fiscal year 2020, the Unclaimed Property Division of the State Treasurer Office processed 17,600 individual claims totaling more than $4.7 million. This represented cash only; it excluded distributions for mutual funds and other securities. Below you will find historical data detailing the number of claimants paid annually, the amount of unclaimed property returned to Vermonters annually, and the amount of unclaimed property annually turned over to the Treasurer's Office.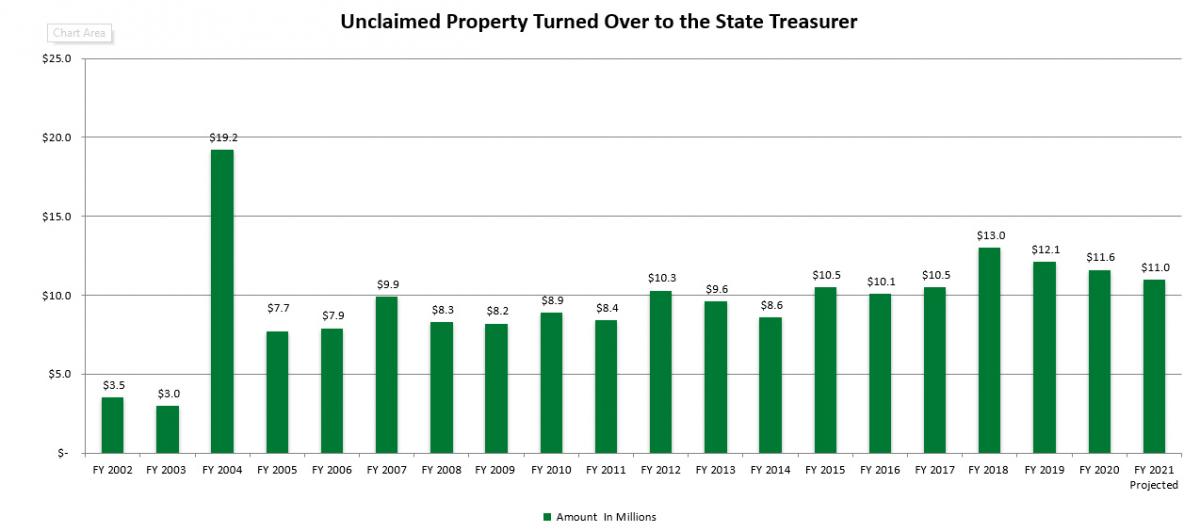 Returning Unclaimed Property is about Protecting Consumers
The Treasurer's Office team works daily to help Vermonters access their missing money. Check out the video below about one Vermonter who located a missing life insurance policy.
Businesses and Non-Profit Organizations Have Unclaimed Property Too.
Businesses and non-profit organizations also have unclaimed property.  Search for your business, place of worship or community organization to see if it is on the list.  State Treasurer Beth Pearce personally delivered checks to several non-profit organizations during a recent outreach effort. More
Reclaiming Your Property is a Free Consumer-Protection Service.
It only takes a moment to search and see if we have any unclaimed property in your name.  Questions? Send an email to  unclaimed.property@vermont.gov  or call (802) 828-2407  (800/642-3191 - toll-free in Vermont only). We are always happy to assist you.
Which State Statutes Govern Vermont Unclaimed Property?
All processes for reporting and disbursing unclaimed assets are guided by Vermont Statutes Title 27: Property, Chapter 18: Unclaimed Property.
Stay Informed About Unclaimed Property.
Searching for a lost life insurance policy or payment? Use this Web page to search for lost benefits.
Some Web sites and phone solicitors claiming to want to assist you in obtaining the return your abandoned assets can be fraudulent.  Review these  helpful tips to evaluate such offers and avoid being defrauded.