The Vermont State Treasurer's Office first introduced the Reading is an Investment program to Vermont schools in 2010. The program promotes the teaching of personal finance to elementary school children by providing quality children's books that explore financial subjects to participating schools.The program offers students in kindergarten through 6th grades the opportunity to learn about money and basic financial concepts. Off-the-shelf resources give librarians and teachers tools that they can use to help students make the connection between these stories and their individual lives.
The 2019 - 2020 Reading is an Investment program theme was Make a Plan to Spend, Save, and Share.
This year's theme is "Make a Plan to Spend, Save, and Share." You can access all of the lesson plans here.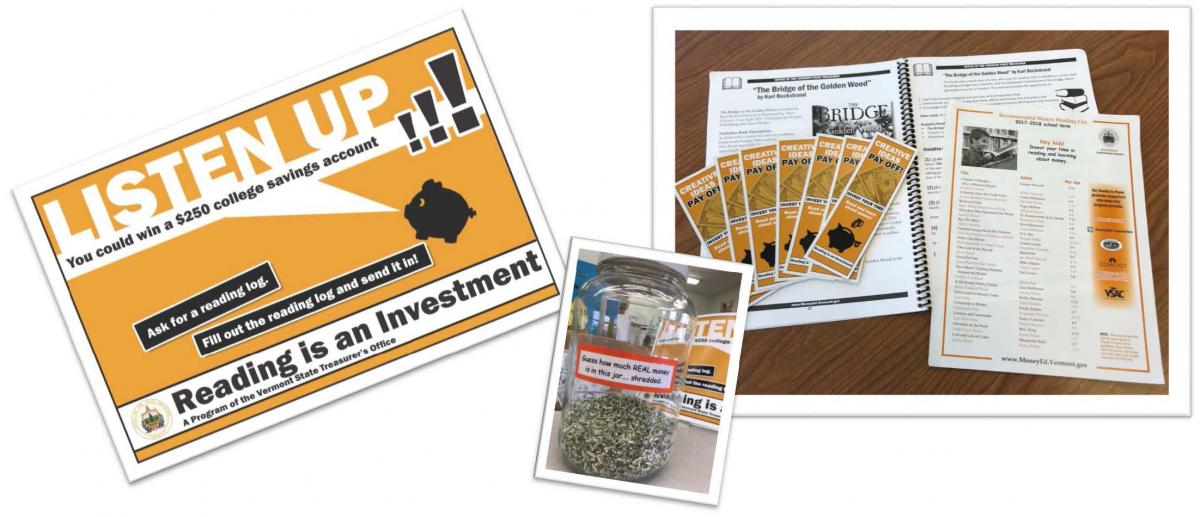 In The Four Money Bears by Mac Gardner, students will learn how budgeting fits into making a money plan.
In It's Not Fair by Caryn Rivadeneira, students follow the decision making process of a character as she decides how to spend her money.
In The Squirrel Manifesto by Ric and Jean Edelman, students can think critically about how financial decisions are made. This rhyming story reminds us of the importance of generosity and charity after all our spending and saving goals are accomplished.
Congratulations to the 2019-2020 winners of the Reading is an Investment Program! These students were each awarded with $250 College Savings Accounts from VSAC, the winners included:
Colton Pearson of Barre Town Elementary School
Jonathan MacDonnell of Brewster-Pierce Memorial School 
John Wade of Canaan Schools
Charles Hildebrant of Clarendon Elementary School
Paige Bero of Essex Elementary School
Isabelle Hogle of Franklin Central School 
Rhys Gibson-Hirsch of Jericho Elementary School 
Teagan Kane of Malletts Bay School 
Winston Stattel of Mary Hogan School
Allison Bussino of Mt Holly Elementary School 
Levi Machia of Neshobe School 
Zylus Hodges of Newport City Elementary School
Andrew Lee of Proctor Elementary School
Abdalla Mubarak of Sustainability Academy
Tristan Hoague of Swanton School
Skiler Farley of Troy School
Lillian O'Dell of Tunbridge Central School
Aurora Gordon of Underhill Central School
Winning students were also selected from Bethel Elementary School and Morristown Elementary School
Tell Me About the Program
The program takes a two-prong approach to promoting financial literacy -- class or library instruction and personal reading. Each fall, participating elementary schools receive three new hardback books. Lesson plans and activities are included with the books to teach money concepts. At the same time, students are encouraged to participate in a personal financial literacy reading program. School librarians receive a recommended money reading list that highlights books that focus on basic financial concepts. Students who read at least three books from the list and complete personal reading requirements can send a completed reading log to the Treasurer's office for entry in a statewide drawing for one of twenty $250 accounts in the Vermont Higher Education Investment Plan -- Vermont's official 529 college savings plan. Winning students are honored at an annual ceremony in Montpelier.
Each year, the Treasurer's office holds a Financial Literacy Awards Ceremony in Montpelier to recognize student achievement.
We have archived all past materials for continued use by both school personnel and parents. See the Lesson Archive under Reading is an Investment on the left. 
Please Thank Our Supporters
This program would not be possible without the financial support of People's United Bank, who generously contributes funds to the Financial Literacy Trust Fund to provide the underwriting support for the program. The Vermont Student Assistance Corporation provides all of the Vermont Higher Education Investment Plan prizes.