The Vermont State Treasurer's Office first introduced the Reading is an Investment program to Vermont schools in 2010. The program promotes the teaching of personal finance to elementary school children by providing quality children's books that explore financial subjects to participating schools.The program offers students in kindergarten through 6th grades the opportunity to learn about money and basic financial concepts. Off-the-shelf resources give librarians and teachers tools that they can use to help students make the connection between these stories and their individual lives.
 
The 2018 - 2019 Reading is an Investment program theme is Wants, Needs, and Everything in Between.
This year's theme is "Wants, Needs, and Everything in Between." You can access all of the lesson plans here.
In Lily Learns About Wants and Needs by Lisa Bullard, students will learn about the choices that face consumers as they weigh their wants and needs within the constraints of a budget.
 
In A Bike Like Sergio's by Maribeth Boelts, students will learn about the choices that face us when we weigh wants and needs.
 
In Tía Isa Wants a Car by Meg Medina, students will learn about evaluating wants and needs along with other financial needs.
Congratulations to the 2019 winners of the Reading is an Investment Program! These students were each awarded with $250 College Savings Accounts from VSAC, the winners included:
Ella Gibert of Browns River Middle School
Harper Reese of Cambridge Elementary School
Brian Hemple of Clarendon Elementary School
Stella Smiar of Edmunds Elementary School
Demari Burton of Elm Hill School
Charlie Cloud of Essex Elementary School
Connor Crouse of Hardwick Elementary School
Max Capurso of Hartland Elementary School
Lucas Gleason of Jamaica Village School
Ronin Quinn of Lakeview Elementary School
Amie Wilhelm of Mary Hogan School
Nevyn Beagan of Morristown Elementary School
Gabriel Tabor of Newport City Elementary School
Layna Rose of Sharon Elementary School
Caragh Fitzgerald of Swanton Elementary School
Harper Grant of Tunbridge Central School
Rebecca Butler of Underhill ID School
Tell Me About the Program
The program takes a two-prong approach to promoting financial literacy -- class or library instruction and personal reading. Each fall, participating elementary schools receive three new hardback books. Lesson plans and activities are included with the books to teach money concepts. At the same time, students are encouraged to participate in a personal financial literacy reading program. School librarians receive a recommended money reading list that highlights books that focus on basic financial concepts. Students who read at least three books from the list and complete personal reading requirements can send a completed reading log to the Treasurer's office for entry in a statewide drawing for one of twenty $250 accounts in the Vermont Higher Education Investment Plan -- Vermont's official 529 college savings plan. Winning students are honored at an annual ceremony in Montpelier.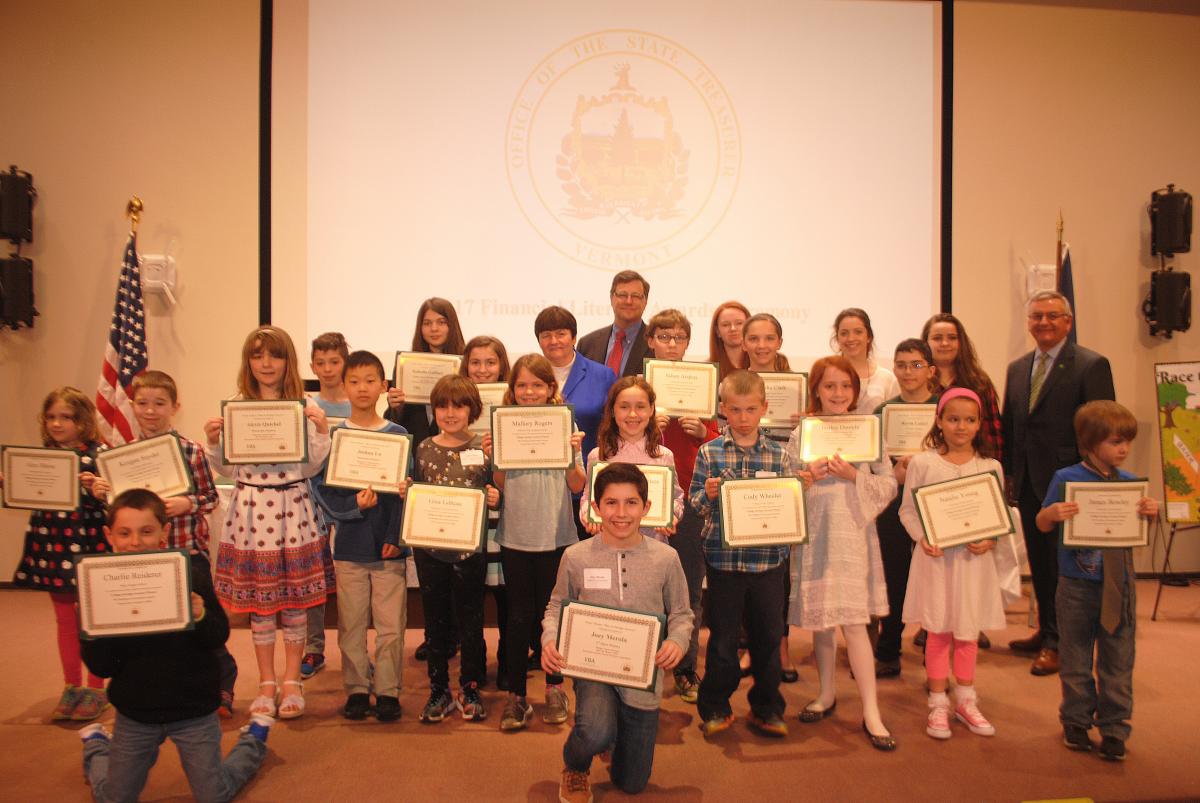 Each year, the Treasurer's office holds a Financial Literacy Awards Ceremony in Montpelier to recognize student achievement.
We have archived all past materials for continued use by both school personnel and parents. See the Lesson Archive under Reading is an Investment on the left. 
Please Thank Our Supporters
This program would not be possible without the financial support of the TD Bank Charitable Foundation, the Windham Foundation, and Comcast. These organizations contribute funds to the Financial Literacy Trust Fund and provide the underwriting support for the program. The Vermont Student Assistance Corporation provides all of the Vermont Higher Education Investment Plan prizes.
National Standards in K-12 Personal Finance